Cick here for official website
Thunder Races - V8 Micra
Thunder Races starts on Monday Jan 20th at 8pm on the Discovery Channel (repeated on Sundays at 6ish PM).
The Micra will appear in show 3 on the 3rd of February :-)
John Beardmore of the green team has also put together some pics HERE
Welcome to the somewhat scabby V8 Micra corner of spagweb.
Pictures of the dismemberment and some new wheelspin vids!
More micra dis-mentaling - getting quite small now..
THE CAR
Brief Spec:- 'F' reg Nissan Micra, 3.5l V8, auto box & prop shaft from Rover P6 estate, rear axle & propshaft from 2l Ford Sierra, rear coilovers from Ford Fiesta, 14" Ford wheels (bodged to fit Nissan front hubs) soft compound grass/gravel rally tyres, unmusical airhorns.

HOW IT STARTED...
Not even finished the V8Mini project when on Thursday (22/08/02) I get this unsolicited email via the website......
" I've just been checking out your website and I would like to talk to you about a project I am working on for Discovery. Thunder Races is an engineering challenge programme that pitches three teams of the nations top mechanics against each other to adapt and modify an old banger into a fire breathing thoroughbred. The challenge for the third programme in the series is to place a V8 engine into a doner car with an engine size of 1 litre or less. "
I dunno how the website gave them the idea that this would be my kind of thing !!! ;-)
Format for the show is £800 budget to buy suitable small car and convert into a 'stylish custom monster' in 2x 12hour sessions with a 3 mile race at the end. Ideally they want teams that have done something similar, or who have a suitable motor/engineering background to make sure they end up with a good race (or flaming fireball - though the researcher seemed a bit unhappy when I suggested this)

Turned out they were trying to get teams together for this challenge, and was I interested in making a team - only problem being that it is being filmed next Tue, Wed & Thur.
Hmm, nice one for them to drop on me at 4:30pm on Thursday! So spent most of the evening madlly emailing & phoning people who would 'Love to, but need a bit more notice'.
But then there were a couple of 'bite yer hand off' keen types with the right skills (& mentality).....

THE BLUE TEAM (us)

Old Mini lister, Paul Tucker, who stumbled into our campsite at MITP with copious
quantities of 'alcohol', Tony C a V8 friend http://www.capriracing.co.uk/theteam.htm and me (Ian (Spag))!.

DAY 1 - Track briefing & scrap surfing.
View of the accommodation.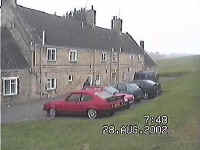 View of our scrap :-)
Day 2 - Chop & fit
With the V8 sitting in the front of the Micra, flywheel level with bulkhead, gearbox mounted to top of transmission tunnel and rear axle tacked in place.
Spacious engine bay.

Day 3 - Weld crazy & painting
By the end of the allocated time we had created an evil hand painted monster !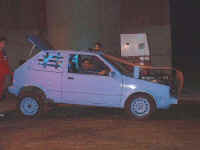 Initially the mesh was just going to cover the windscreen, but wrapping the whole front of the car added a bit more 'style'. (Though with the 'invalid carriage blue' it's kind of Mad Max's Mum ?)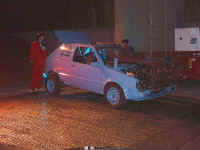 Paul looking somewhat scary, kind of in keeping with the rest of the car :-)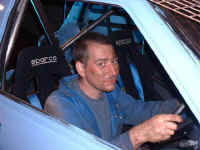 From the front the thing is just pure evil, which should psych out the opposition if they end up in front !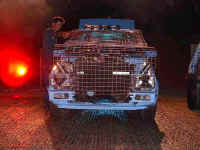 Just to make sure it scares old ladies and children each bank has got an 18" long open exhaust pipe, the last 9" of which are a 3" bore chrome tail pipe. Hideously loud with nice big blue flames :-)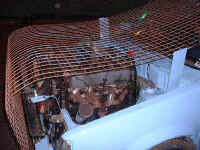 The full length mesh does make engine access a bit of a pain (especially when the paint is still wet).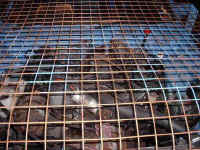 The cockpit should be reasonably safe with a nice welded in cage (ta Tony), race seats & 4 point harnesses.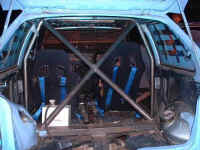 Rear end is held together by the discrete new cross member tied into the floor, rearches, suspension mounts and axle.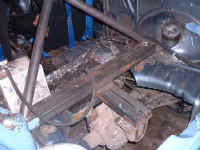 The rear end needs a bit more styling as the space on the back of the spoiler needs a logo or some words .....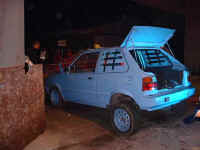 Erm, another shot of the front of the car, with the 'bonnet' removed and nice BLUE air filters :-)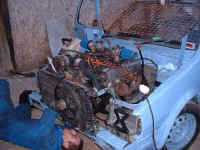 Gear stick and most of the transmission tunnel.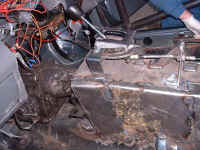 Some other small pics (not thumbnails!)
Sierra axle and Fiesta rear coil overs.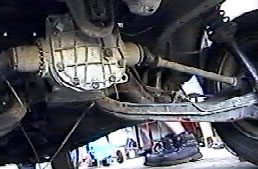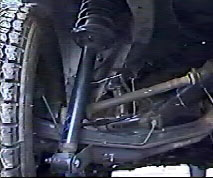 Sierra rear springs welded from the bottom arms to the chassis to lift the front.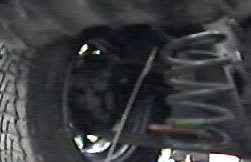 New grippy rally tyres :-)

Glad it doesn't look too evil in the dark !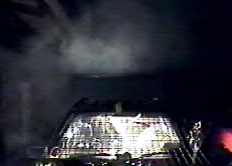 Hmm, wonder if we will get away with this on the spoiler ;-)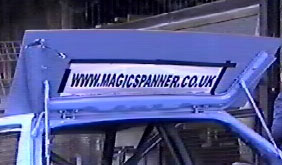 .
.
.
And now, some rather dubious videos & wavs ....
Note the avi files have been compressed with the DivX codec, if you don't have it, then download it divx_3.11alpha.zip (700kb)
Rough start on 4 cylinders due to a carb failure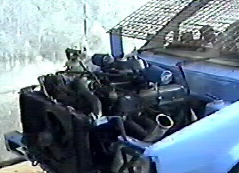 Running on 8, sound is a bit distorted because it's s so bloody loud !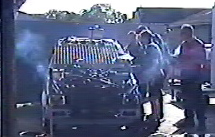 Driving in the dark but running rough coz not warmed up.


RACE DAY !!!!!!
Car loaded with £20k of camera stuff & close up of clocks.
The V8 had been leaking badly from the water pump shaft, but was slowed down a great deal by two Bars Leak 'dog turds' so we ran a pressurised system and only lost a litre from the header tank, which was nice.
Note the avi files have been compressed with the DivX codec, if you don't have it, then download it divx_3.11alpha.zip (700kb)
Rough running #1 AVI(994kb) WAV (57kb)
We had a bit of a 'mare with the ignition but that seemed to be cured by locking off the vac advance to prevent the timing 'randomising' itself with vibrations. Rough, but driveable !
Test drive #1 AVI(976kb) WAV(74kb)

After a bit more tweaking and warming up it started to rev a bit more freely, but was still not running on all 8.
Rough running #2 AVI(1002kb) WAV(45kb)
So another faster test run was in order.
Test drive #2 AVI(1190kb) WAV(84kb)

Some idiot with a neck support....

We only spent 2 and a half hours waiting while TV types took lots of 'arty' shots.
On the start looking confident ;-)

But sadly we didn't win :-(
Scabby 2 3/4 min home video of the race, AVI (3928kb) WAV(327kb)
(probably not worth a 20min download at 56k!!!)
In all the race was a real laugh with the Micra leading for a short time at the start, but almost immediately we lost warp drive (faulty dilithium crystals or something) and had to limp around on impulse power.. So we didn't win -'Curse you Mr Lucas'. Apart from that, mechanically the car held up very well with no breakages :-)

The race between the other two teams was really good, with a bit of 'leaning' on each other and nice 'tyre signatures' down the sides of both cars :-)


Hmm, wonder how easy it would be to get the engine out of that into the Micra....

Updated with pictures of the dismemberment and some new wheelspin vids!
OTHER LINKS
For a quick peek at the 'inspirational vehicle' used on the show have a look at Andy Leach's monster V8 Mini
Members of the green team can be found at http://www.beardmorebros.co.uk & http://www.audiracing.co.uk
John Beardmore of the green team has also put together some pics HERE
You can in a Nissan ..... But do you really want to ???