I would like to say that it is possible to create a professional, factory look switch panel using LEDs & switches from RS on a black painted Maplin box, with legends in silver pen....
But it wouldn't be true!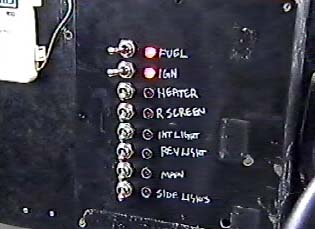 The BBQ grill over the front radiator almost looks like it should be on the front of the car with the new additions of vertical folded ends that hide the rest of the rad and plumbing.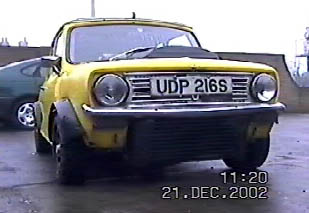 Just imagine them in off whitey yellow - fangs - how scary ? Now we wouldn't want Doris to be scary would we ;-)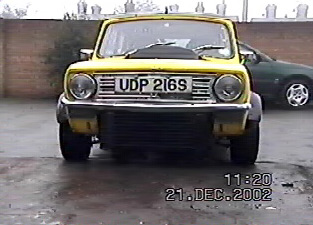 A few vids of testing!
Note:- AVIs compressed using DivX', see Tech Files for 700k download
A quiet dashboard trip on the drive dashride.avi (1682kb)
Elaines first time wife_drive.avi (1022kb) (Title should get the search engines going)
From inside the car...
1st - 2nd gear 1st_2nd_1.avi (1618kb)
Faster 1st - 2nd gear 1st_2nd_2.avi (490kb)
Pulling away in 3rd 3rd.avi (770kb)
From outside the car...
1st - 2nd with a little wheelspin 1st_2nd_1.avi (434kb)
1st - 2nd with a little wheelspin 1st_2nd_2.avi (460kb)
1st - 2nd with a little wheelspin 1st_2nd_3.avi (634kb)