Under hard acceleration, Doris was showing a tendency to weave and follow the road camber somewhat, so I bought a set of heavy duty adjustable camber bottom arms and some new red bushes. The thought being that maybe the fixed arms were not giving the best angles for the current ride height, tyres etc...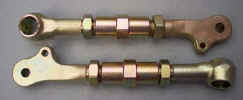 However, on removal of the old arms it was apparent that the cause of the problems may be the yellow 'uprated' bushes, which seem to have been literally squeezed out of the arms. Possibly a bit much torque ?? ;-)
With the new arms fitted and aligned, all we need to to is wait for a nice warm dry day for a bit of testing. Which probably means the spring !