Brief outline of the next V8Mini project.
or
'And then there were pies...'
So Mike says ' Spag, why don't buy the Pievan from me, it needs to be rescued coz it's being evicted from it's garage, and it would make a lovely huge engine bay'....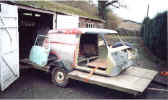 And it would have been a shame to let it go to waste, so Project Pievan was born.
Renault V6 on Un1 transaxle would fit in the back with lots of room to spare
But better still (from a noise point of view if not a BHP one) a Rover V8 on Renault UN1 transaxle would go in :-)

Mmmmmm nice low mounted mid engined V8 Pievan!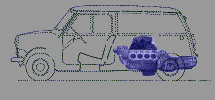 (Full shell dimensions now in the tech files section.)
Maybe hung under a Sierra beam axle (when the diff is removed) ??

More pics of the diff here
Another possible is the beam axle from an old BMW 3 series.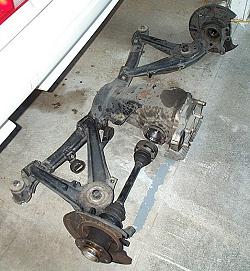 Project is currently in the planning / scrounging stage, but construction should begin in the spring :-)