7th-8th September. No more action !
Visited the V8 Micra this weekend for some painting & tweaking, so no work on Doris (Again!).
Hope to get back to the V8 Mini next weekend after the Thunder Races er race :-)
14th-15th September, back at it.
Well, sort of ! Still feeling a bit knackered after the race in the Micra (click for more) I decided to get back in to the V8 Mini building thing slowly by putting the bottom end together and finishing the white primer on the last wheel.
Look, proof - a fully built bottom end :-)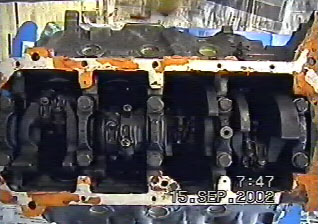 16th September, updated fools.
Mad Matt Read has now got a new website http://www.miniman.com.au/proj.htm
And we now link to another V8 cabrio from Belguim http://www.geocities.com/minimadfrank