3rd July, Doris In Print !!!
Got the July copy of Practical Performance Car magazine and Doris is in there, being trailed for next month's issue.
Seems like I will no longer be able to refer to the car as 'The car the magazines refuse to feature coz it's not shiny enough'. About time really, it's not a very snappy phrase !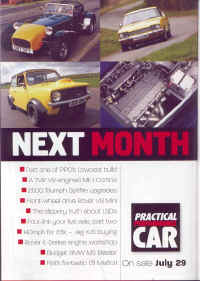 <- click ere for a bigger one...
4th-5th July, Action.
A bit more test driving has shown up a minor missfire, nothing serious, just a bit annoying at part throttle. Wiggling the timing didn't help, but tweaking the dwell sort of changed it a bit.
Bah, pesky points! I will get some spares for the Lumenition and stick that back in, hopefully that will sort it out :-)
8th July, Action.
Stuck in a new Lumenition chopper, set the timing, and as if by magic she runs like a dream again. Admittedly it is a bit of a scary dream, but at least it's back to normal ;-)
10th July, Action.
Did a bit of tweaking and fettling to make sure she was running well, and managed to get a nice stable 650rpm idle...
10th-11th July, Action.
An evening of drunken badminton and sundry foolishness, (some of which was encouraged by the 'staff' and competitors) followed by some late starting rally cross and a few parade laps...
Pics from the Lydden Hill Classic Car Display
24th-25th July, Action.
Secret trailer development . It's secret so I can't give any details ;-) !!!