Damian
Here are my current vehicles - a re-shelled 1981 SD1 V8S and a 1968 Sunbeam Sport.
The Rover is (of course) not standard, and has had major heart surgery - a 4.5 litre V8 conversion with Jag injectors & airflow meter, programmable ECU, TVR Griffth 500 cam, etc.
Bascially, it is the same spec as a 4.5 litre TVR 4500cc unit, and produces a respectable 285bhp and 307 ft/lbs torque at about 5,500rpm.
With a 3.45 axle it accelerates 'nimbly', and I've seen repeated 0-60 in under 6 seconds (without a LSD!!).

The imp is a stripped out Sport model, originally intended for sprints / hillclimbs.
The v8 will sit, as per Spag's, in a mini front subframe on the modded Princess g'box in a rear mid-mount transverse position.
The engine is an old 100,00 mile unit freshened up with new bearings, cam chain, and a 3.9 litre (285) cam. (Yes, I've seen Andy Frazer's grasstrack V8 imp...but mine will look totally standard..!).
More Imps & Sd1s
'The Devil's Child' is a Rover v8 powered coupe imp, with the Rover v8 engine and vw van transaxle mounted longitudinally. The problem with this conversion is that the wheelbase of the car has to be extended, ruining the standard appearance....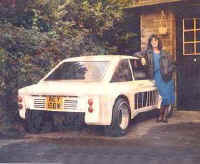 The yellow v8 rally imp could well be a transverse conversion - looking at the wheel base - but with those crazy 14"-15" wheels and non-std. arches it looks to tonka-toy for my tastes.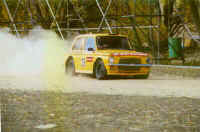 I'm not mad.....really..... people have done this before!!!

The coupe SD1 you see here is my amauteurish concept...but I like the idea! It would need a fair amount of welding and sheet bodywork fabrication, and needs a 400cu.inch Chevy motor and a Jag power lock diff, 6-speed box, speed sensitve power steering, full custom leather interior....ahhhh....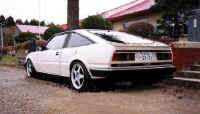 If I ever finish the BL V8 imp conversion (BLimp), this will be next in line...