NOTE AVI files compressed with the DivX codec, 700kb zip file here
Camping Amoc 7th May 05
A few pics from the years first official camp...
The new Spagley/Mitchell 2 bed bungalow

Steve's new country cottage, with small garden, with a splendid view of the poultry sheds.

Ooo, a new base for the flag pole.

1136kb avi
Almost a case of "Klingons on the starboard bow"!

1540kb avi
Stig inside the car filming some grass cutting !
A spot of tarp surfing with Garrrry, also with a couple of minor accidents !

7256kb avi
** Note to self** Don't leave keys in front pocket next time...
Louise as another victim volunteer, with Garrrry for scary dark surfing !

By the look of Louise's leg it seems that kneeling may not be the best way to ride the tarp either !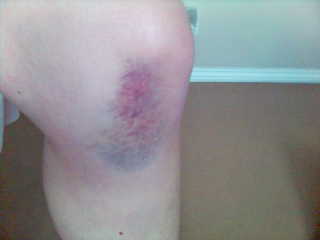 May 05